Marlen prominently featured in the Swiss Tagesanzeiger: a dossier on sex-positive feminism in one of the country's most widely circulated newspapers. Portrayed together with my wonderful fellow pioneers – > Laura Meritt from Sexclusivitäten and porn actress > Jasko Fide – with both of whom I share long lasting bonds and activist history. With Jasko even a somewhat " captivating bond ", as you can see in >these photos.
Together we fight against a misunderstood "protection" of women* as we think that every woman* can know for herself in which way she lives her sex and sexuality. Bans and censorship have never been of any help. Many thanks to journalist Anielle Peterhans for this courageous article!
---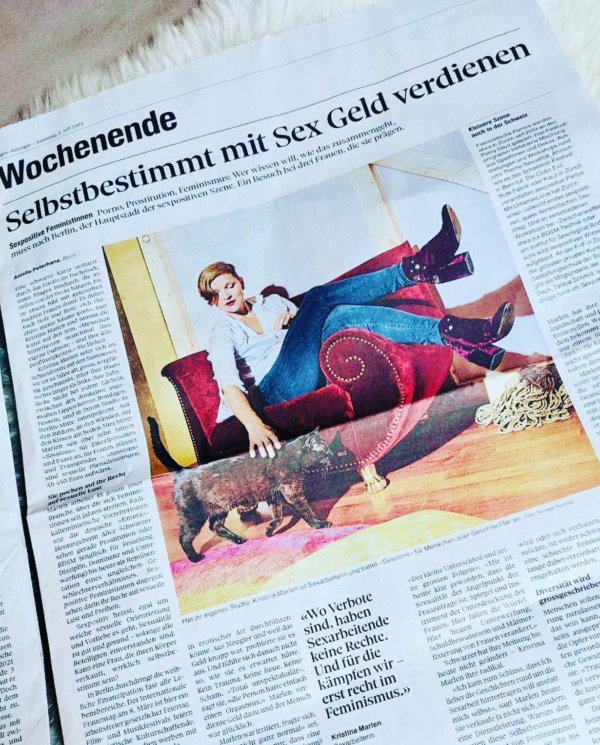 Text: Anielle Peterhans from Berlin for the Swiss newspaper Tagesanzeiger from 02.07.2022
Many thanks from my cat to the photographer Norman Konrad who gave her the opportunity to make a grand entrance into media – and from me as well, of course!
Click here to read the article as pdf
LINKS:
Information about my co-interviewees:
– Porno-actress Jasko Fide
– Sexshop in Berlin by Laura Méritt: Sexclusivitäten
In Switzerland:
– Zwischenwelten by Michaela Fuchs & Sidonia
I've been working with Zwischenwelten since 2013 – this October I'm holding the workshop "Exploring D/S" and there are still places available :-).
– Film Art Festival: Porny Days organized byTalaya Schmid
More:
– The Freudenfluss Network
– PorYes Feminist Porn Award Europe
– Sexshop in Berlin: Other Nature
– Film and Photography by Goodyn Green
– HardWerk: Erotic Feminist Film
– Erika Lust: Making Porn
– Feminist academic Madita Oeming
– Pleasure-activist Polly Fannlaf
---
Porn, prostitution and feminism: if you want to know more about how this fits together, you have to go to Berlin, capital of the sex-positive scene. A visit to three women who have made their mark.
---
A black cat swaggers through the studio located in a loft, passing under large rings hanging from the ceiling on ropes, walking up to a picture with bound naked women on it. It smells of wood and rose. "I like to fill my rooms with incense," says Kristina Marlen, taking the cat up in her arms. "People sometimes leave behind their own scent – and their bodily fluids." She smiles.
Kristina Marlen sits cross-legged on the velvet chair. She is 44 years old, tall, carefully applied make-up, wears her hair longer on the right than on the left. A small gap between her teeth peeks out from behind her dark red painted lips every time she smiles.
Bondages, restraints made from rope, are omnipresent in her studio in Berlin-Mitte. On the pictures on the walls, on the cushions on the floor. Here Marlen has been providing "sessions" for individuals and couples for over ten years, for women, men and transgender people – "sessions" are sexual services. From 450 euros upwards.
Marlen works in the very industry that feminists have been arguing about for years. Radical feminist pioneers such as the German "Emma" editor Alice Schwarzer to this day see prostitution or BDSM in particular (an acronym for bondage, discipline, dominance and submission) as representing an unequal gender relationship. Sex-positive feminists, on the other hand, see it as their right to sexual pleasure and freedom.
Sexpositive means no matter what sexual orientation or preference is involved, sexuality is good and healthy – as long as everyone involved consents. Can a woman who sells her body really be independent?
In Berlin, female emancipation infuses almost all areas of life. International Women's Day on March 8 is a non-working public holiday here. Film and music festivals celebrate feminist creators, publishers and the media advertise with emancipatory agendas.
And the German capital, along with New York and Cologne, became a globally sought-after destination for lesbians and gays. As early as 1897, the world's first political organization to advocate against the criminalization of same-sex sexuality was founded in Berlin. Step by step, things progressed in a liberal and tolerant manner. At the end of the 1970s, the world's first Gay Pride took place in Berlin.
---
In Berlin, a large part of the feminists are queer. They are no longer just fighting for equal pay or for paid care work. In this city, they are also concerned with their right to sexuality.
---
Kristina Marlen is also fighting for this. The berlinbased sex worker used to work as a physiotherapist. She financed her studies with massages. One day she got a request if she could also perform them in an erotic way. Out of curiosity and because money was tight, she tried it out. And afterwards, she didn't feel the way she would have expected. No trauma. No regrets. No shame. "Totally unremarkable," she says, "the person just had an orgasm."
Marlen earned extra money and the person was happy. Marlen was puzzled. She wondered if she was "not quite normal." Why did she think that a woman could not want something like this? Which notions of womanhood underlie these thoughts?
Kristina Marlen describes herself as a child of 80s feminism. Her mother was a political activist for women's rights. At 13, she pinned "PorNo" stickers to her jacket. There were copies of "Emma" at home. ike the editor Alice Schwarzer, Marlen rejected prostitution or pornography. Sex without love can't be right after all.
Schwarzer fought for women. For example, she advanced the right to abortion. At the same time, she already wrote in her book "The small difference and its big consequences" published in 1975: "It has become clear to me today that sexuality is the crucial point of the women's question: mirror and instrument of the oppression of women. This is where the dice are cast. This is where women's submission, guilt, and fixation on men are anchored."
Schwarzer has not changed her mind to this day – Kristina Marlen has radically changed hers.
"I came to the conclusion that I would rather question the stories around sex work instead of questioning myself," Marlen says today. After all, she is not selling herself, but a service – "and I am free and quite creative in how I want to shape the service". Why feminists, of all people, deny women this self-determination is a mystery to her to this day.
Marlen is an expert in Japanese bondage, combining Tantra methods with sex practices that play with dominance and submission. She passes on her own BDSM technique in workshops – also in Switzerland. For Marlen, there are no sex practices that are misogynistic per se. The power relations are reflected where they are negotiated. In concrete terms, this means that anyone who likes to be tied up or spanked is neither weak nor a bad feminist, as long as agreed-upon boundaries are observed.
---
Marlen wants to offer her customers a safe research space. "Here, no one has to perform, no woman has to look pretty, and no man has to proof his masculinity." People are able to to learn about allowing touch.
---
On the one hand, people who have been victims of sexual assault or experienced domestic violence show just how difficult this can be, she explains. "Trauma and sex can be deeply intertwined. It takes a lot of work to reappropriate one' s own sex."
The obvious way out, is to reject sex altogether. However, the feeling of being vulnerable or even at the mercy of others, that many people experience during sex is also simply a culturally
learned trait. "We are often taught to endure touch, especially sexual touch, rather than to create it. We're not taught to say no properly, nor are we taught to say yes actively to make it clear what we like." Many women in particular are not good at communicating their sexual boundaries, she says. And furthermore: They don't know about them either.
During a session, a person communicates with a code word when they reach their personal limit. Afterwards, Marlen sometimes receives mails with wild descriptions of the experienced orgasms. "That's awesome, sex is so multifaceted – I want everyone to know that."
Marlen has her regular clientele and keeps a professional web presence. Nevertheless, she gets these mails with only one sentence: "Fancy fucking?" She can easily ignore such requests – other women do not have this freedom.
Marlen is one of about 6000 sex workers in Berlin who are officially registered. Germany, like Switzerland, has a legal and liberal sex industry. Unlike many other European countries such as Sweden. Critics say the liberal approach promotes exploitation, human trafficking. And it can lead to many prostitutes having to offer themselves for 20 euros on Berlin's streets.
Are these women also self-determining? That's too general a question, Marlen says. Sex work is not yet a normal profession in Germany because the work is stigmatized. "For some, like me, it's a calling. Others just do it to make money. Which is fine." It's only not acceptable when people are forced into sex work – "that's rape, deprivation of liberty or coercion and should rightfully be punished.
In the sex industry social injustice in terms of origins, gender and ethnicity is revealed far too often. For Marlen, it's the conditions under which these people have to work that are to blame – not the work itself.
For women who want to get out, there need to be more counseling centers and safety nets, not bans and repression. These would have a negative impact on many sex workers. "Where there are bans, sex workers have no rights. And those are what we're fighting for – all the more so as feminists."
In some quarters of Berlin, diversity is a top priority. For example, in queer Neukölln or young Kreuzberg. Here sex shops like Other Nature or Sexclusivitäten offer sex toys for all genders and for those without a particular gender. The toys are available in pink, black or nude, made of silicone, stone, glass – like pieces of art displayed in a bright and friendly interior. The sleazy feeling of entering a sex shop is a thing of the past.
Berlin's party scene is also known for its openness when it comes to sex. At various sex-positive parties, the motto is: Nothing needs to, but everything may happen. Party tourists travel from all over the world for this. Be it for a Saturday night in clubs like Berghain, where rave, sex and nudity have gone together since the 00 years. Or at KitKat, Berlin's most famous fetish disco, where things can get even more explicit.
---
For 62-year-old Laura Méritt, this is a sign that sexuality and diversity have arrived in the middle of society. "Berlin is a huge playground. There has always been room for initiatives and quirky ideas here," she says.
---
Laura Méritt is a cultural scientist and author. She brought the saying "Viva la Vulva" from the USA to Europe decades ago. Today she runs one of the oldest feminist sex stores in Europe, Sexclusivitäten, in Berlin and organizes, for example, together with the Freudenfluss network,political campaigns or queer sex meetings in public places. Whether a woman has to be sexually fulfilled to be self-determined? "She definitely may be, but she doesn't have to."
Méritt came across the sex-positive feminists in the U.S. in the '80s. At that time, there was little information about sex in Germany, but there were toxic sex toys and sexist porn. "So I became a dildo dealer," she says. She imported sustainable sex toys from the US to Germany and sold them at events, talking about function, color and culture. In doing so, she wanted to show how diverse the sex industry can be.
"It's knowledge about our own bodies, sexuality and health that leads us to determine for ourselves what's good for us."
Méritt explains that sex-positive feminism always puts knowledge first. Every Friday, "Salons of Joy" are held in her loft. People of all genders and generations meet in various workshops. Sometimes they watch and analyze porn and their own conditioned look, sometimes they massage or look at their vulvas. Even today, many of them don't know how they look like "down there," says Méritt.
The clitoris is often understood only as a kind of pearl. "It's knowledge about our own bodies, sexuality and health that leads us to determine for ourselves what's good for us." Regardless of whether that leads to more or less sex. This also plays into the change of role models, relationship concepts, and the patriarchal structure.
In the last ten years Berlin's sex scene has opened up. However, the commercialization of certain labels – such as feminism, body positivity or sex positivity – means that the content is not always as promised. Most sex toys in commercial stores today are made of good material – "but they still show a woman's ass on the packaging," Méritt says. Sex Education books are still far away from correctly depicting the female physical complexity. And the porn industry? Still a mainly male-focused reproduction industry.
The porn industry is another contentious topic among feminists. Alice Schwarzer launched the "PorNo" campaign back in the 1980s, which attempted to introduce a law against pornography in Germany. Laura Méritt agrees with the campaign's assessment that the vast majority of mainstream porn is discriminatory, sexist and racist.
Sex-positive feminists, however, do not want to ban porn, but offer alternatives. Méritt, along with Pleasure-activist Polly Fannlaf and the Freudenfluss Network, launched the PorYes Feminist Porn Award Europe in 2009. Since then, it has been awarded annually in Berlin.
PorYes aims to spotlight a still under-appreciated feminist porn industry. One that guarantees good working conditions for performers, shows diverse and consensual sex, and honors different bodies and genders. And at the same time changes the view and consequently the behavior and desires of the consumers. She earns her money with sex in front of the camera:
---
Jasko Fide. The 37-year-old actress works for mainstream productions like Erika Lust Productions or HardWerk as well as for smaller, queer films shot in Berlin. She says, "The common perception we often have of pornography has nothing to do with my work."
---
She defines her work through consensual agreements between the director, co-performers and performers and through diverse representations of eroticism and sex.
Jasko Fide is proud of her job and of the fact that she is breaking down the stigma of the industry step by step. "There is still a lot of fear, shame, and taboo about pornography and sexual education in our society – so I often lack the opportunity to show how and with what people I work."
Fide made her debut in the porn industry in 2015 with the film "Shutter" directed by Goodyn Green. The photographer and filmmaker was looking for performers for her newest, lesbian short film. Fide applied on impulse. "I guess I felt an egocentric desire to take a radical step, to portray myself." At first, she didn't know whether anything would come of it, or what would come of it at all – "but somehow that wasn't important."
On set, she emphasized that if she didn't like something, she would leave. "I was never particularly exhibitionist, but rather reserved." That's still how Jasko Fide speaks today. Gently, kindly, tenderly.
Green's film changed a lot of things. When her film scene won an award during the Berlin Porn Film Festival, she felt "electrified": "I knew this was the industry I wanted to work in. The makers of these films inspired me."
As with Kristina Marlen's, Jasko's understanding of feminism has "evolved" with her job, she says. "As a teenager, the first porn clips I saw scared me. At the time, I couldn't handle the explicit depictions at all and didn't know whether the aggression shown was real or just an act."
Since she shoots porn herself, she has learned that it's not the content that matters, but the working conditions. It's not what's shot, but how it's shot that makes the difference, she explains. "Self-determination and consensual agreements are essential. As long as that's the case, each person should be able to shoot what they feel like."
For Jasko, pornography, like any other film sector, should be promoted. Because censorship harms these working conditions. Jasko Fide can hardly advertise for herself on social media: although she follows all the rules, her profile has been deleted several times. "Our industry is seen as dangerous and pushed aside – at the same time, profiles with fascist or racist content are left to remain," Fide criticizes.
Instead of censorship, knowledge is needed. Older kids and teens are just a click away from platforms like Youporn or Pornhub. That's precisely where you'll find the films that were upsetting for Fide as a teenager. More people and institutions are needed to provide guidance to young adults. This has to start at school – with respectful, sensitive sexual education.
As an end note, Jasko quotes the scientist Madita Oeming:
"We need a better porn literacy in our society."